Experience Underwater Freedom
Regular price
$3,600
Sale price
$1,799
Unit price
per
50% Discount
Sold out
Description
Fly through the water like never before with our state-of-the-art jetpack

Dive like a dolphin, effortlessly.
Experience unparalleled diving, snorkeling, and freediving experience with KikFin Fly and hands-free exploration. Venture further, stay immersed longer, and embrace boundless underwater possibilities.


---
Your Complete Aquatic Arsenal Includes:
2 x Fin (battery)
2 x Engine
1 x Remote Control
1 x Screwdriver
1 x Battery charger
1 x User Manual
4 x Screws
1 x Quality Certificate
1 x Remote Charger
1 x Smart Vest
View full details
Your First Electrical Wings
For the first time in the DPV market, you can jump off the dock, boat, or even cliff and continue flying underwater with our electrical wings.
Bio-Mimic Engineering
Inspired by Ocean mammals we designed an innovative Jet-Pack with two pectoral-shaped motorized fins that allows you to perform fast maneuvers underwater mimicking the freedom sensation of diving like a Dolphin.
Hands Free Operation
Introducing the first completely hands-free underwater jetpack on the market.Allowing you to use both hands for several uses and to experience underwater freedom like never beforeYou can either use both hands for grabbing different gear.  Rescue situations become easier than ever, paddle faster to reach your destination or to cover bigger distances with ease. Gain full control on your direction with effortless head movements due to our special wings mechanism backyard by maximum speed of 2.6m/s.
Innovative Remote Control
 The innovative hand wearable single button remote controlFull control at your fingertips - KikFin's underwater wireless remote, integrated into a neoprene glove. Effortlessly switch between 5 speeds and synchronize up to 10 KikFins for diverse aquatic adventures. 
Underwater Battery Replacement
Replace your battery without ever stopping your session.IP68 sealed rechargeable battery is a custom lithium-ion battery built for rugged marine environments. The fin shape allows cooling-off the battery which extends the batteries lifetime. 60 minutes working time.
40 Meters Depth
 Explore the depths with KikFin , engineered and tested to operate under rough conditions and pressure.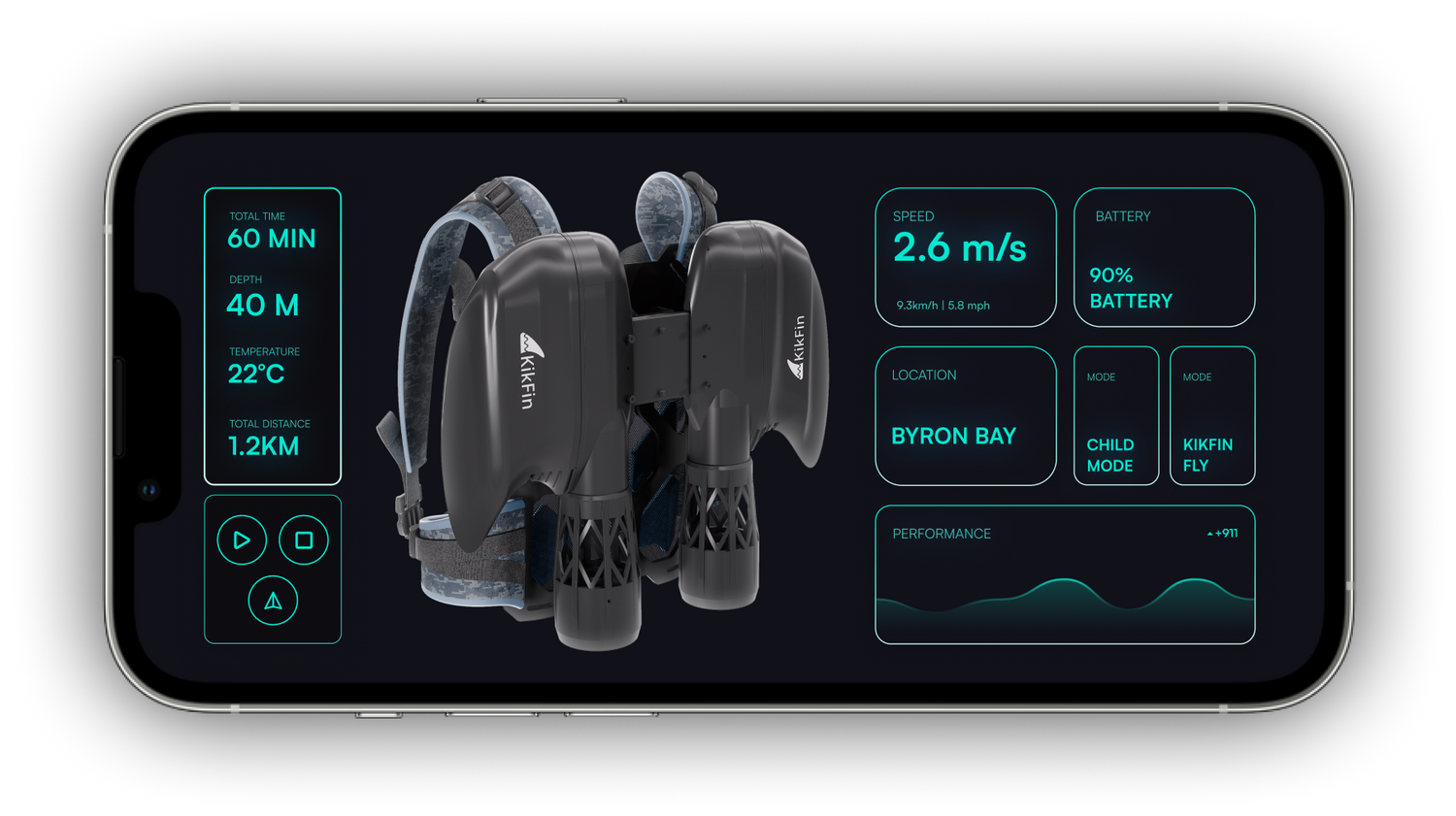 Smart APP
Stay safe with the option to alert or stop the motors when reaching a specific depth
Track your location, speed and performance during your session.
COMING SOON